Green Banana Smoothie Bowl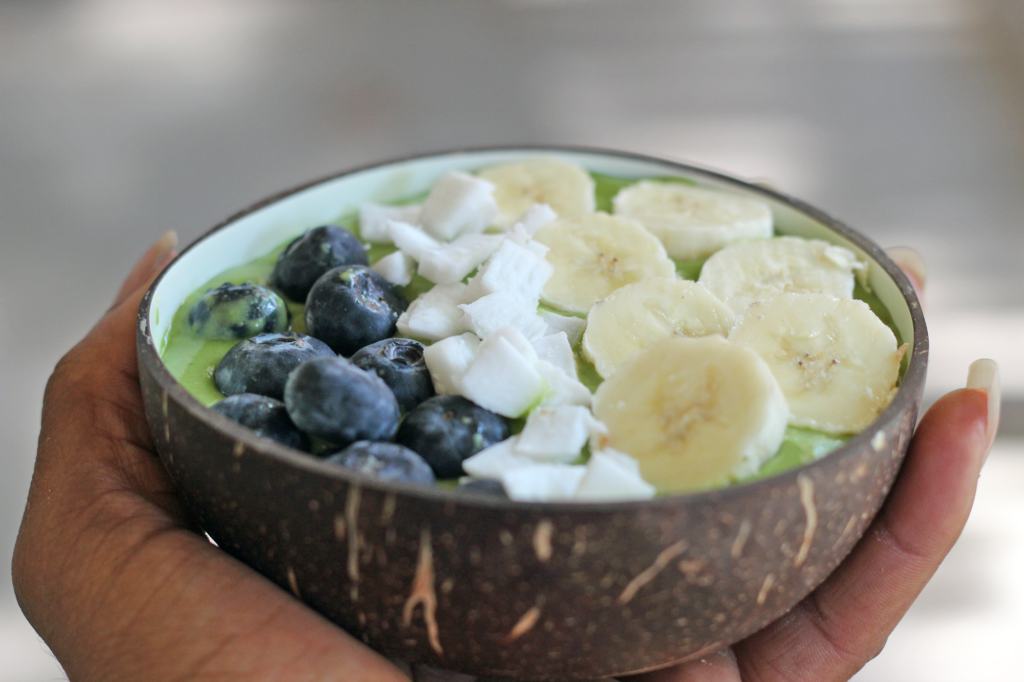 First time making a Green Smoothie Bowl?? This finna be a BREEZE!!
So the first thing that might come to mind is, "What's the difference between a Green smoothie and a smoothie bowl?"
The answer may vary, depending on who you ask.
But for me, I tend to make my smoothie bowl a little thicker than a smoothie I would drink.
It's hard for a lot of people to even vegetables, so this is an easy way to get in the majority of your leafy greens (nutrients and servings of vegetables), without it even tasting like it.
To be honest, it almost seems like cheating, because it tastes more like a dessert than anything.
Also, I like to add in peanut butter (as I add to everything), which gives it more of the dessert taste.
Then you can add toppings on the bowl, cinnamon, shredded coconut, granola, blueberries etc.
INGREDIENTS
2 medium ripe bananas (preferably sliced and frozen)
85 grams or 2 large handfuls of spinach (organic if possible)
80 grams of frozen Pineapples
1 cup fresh or frozen mixed berries (darker berries for tend to make a purple smoothie, strawberries & raspberries tend to make a greener smoothie)
1/4 ripe avocado (optional)
1 small handful kale (optional)
1 1/2 – 2 cups unsweetened vanilla almond milk  (coconut water if your goal is fat loss)
1 scoop Vanilla Plant-Based Protein (I usually do 2 scoops)
1 tbsp (30g) Peanut Butter (optional) (my preferred Brand Naturally More Extra Protein)
1 Tbsp flaxseed
TOPPINGS (optional)
Granola
Shredded coconut
cinnamon
Raw or roasted nuts (almonds, pecans, walnuts, etc.)
Shredded unsweetened coconut
Fresh berries
Hemp seeds
DIRECTIONS
Add all smoothie ingredients to a blender and blend until creamy and smooth. Add more almond milk (or water if your goal is fat loss) to thin.
Taste and adjust flavor as needed, adding more ripe banana (or maple syrup) for added sweetness or almond milk for creaminess.
Divide between 2 serving bowls (or not) and top with your preferred toppings.
It's best to eat these bowls when fresh, but leftovers can be kept in jars in the fridge for 1-2 days. There may be some separation in the ingredients, which is natural.
Destroy !
EATING FOR FAT LOSS? FOR FEWER CALORIES:
Replace Almond milk with coco water.
Don't add Peanut butter. Maybe try peanut butter powder if you just really need the flavor.