Vegan Veggie Seitan Gyros!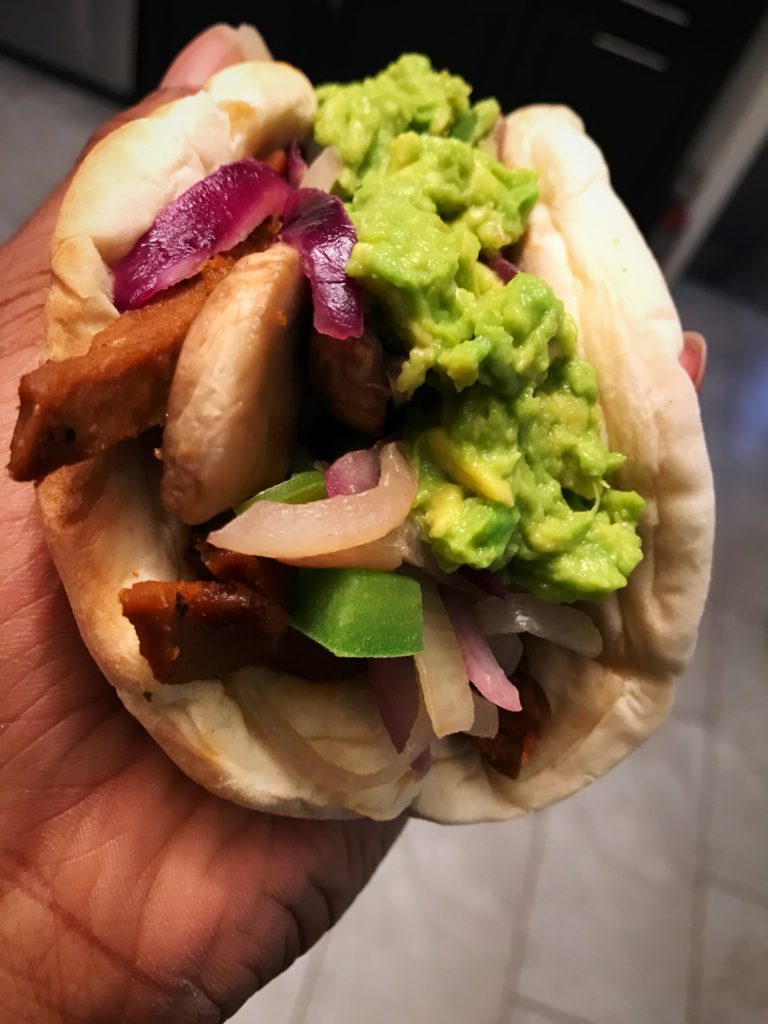 🔥🔥 VEGAN GYROS Mogulbody Style 🤤😁
Growing up in Chicago, Gyros were a Big part of my childhood eats lbs. Some I thought I'd bring it back, Veggie style. Same hood food vibes, just more nutrients 😆
I replaced the Tzatziki sauce w/ Avocados 🥑
This is prob the Ultimate Post Workout Meal Of All Times. Good Carbs and Clean Protein Protein Protein. 75 grams Of Protein to be exact, from Seitan and Tempeh.
SIDE NOTE: I don't eat this way every day, my goal is to show that you can still eat your Fav meals and build muscle 💪🏾 with a Plant-Based diet, without animal products, that will taste just as good ! (Actually Better tho 💪🏾😎👊🏾) The dopest thing about these meals is, if you're someone who's not a fan of eating vegetables, this is the simplest way to sneak your daily recommended servings into your diet on a daily basis without even tasting it.
Ingredients
2 Pieces of Pita Bread
Veggie Gyro or your Preferred seitan, tempeh, other plant-based meat
1/4 cup sliced red onion
1/4 cup sliced yellow onion
1/4 cup sliced green peppers
1/2 Avocado (optional)
1/4 cup chopped up white mushrooms
1 tbsp Coconut Oil for greasing the skillet
Your preferred seasoning. (I use Jerk seasoning for EVERYTHING)
HOW TO MAKE VEGGIE GYROS
Grease skillet with coconut oil, then add sliced/chopped onions, peppers and mushrooms. Heat until your desired texture. Pour onto a separate plate.
Add veggie gyro pack into the skillet on medium heat. Since it's already cooked, just heat until your desired texture. Then pour the seitan onto a separate plate also.
You can heat your pita in the oven if preferred. I just threw mine in the Mic 😆, Place the seitan gyro on the pita bread. Then add your veggies on top!
Lastly, you can choose your preferred sauce, I used avocado, smashed a fourth with a spoon for a guac like texture, and the other fourth I just cut into slices. Eat Up!
Let me know how you like these Vegan Veggie Seitan Gyros on Instagram @mogulbody!