Vanilla Cranberry Pecan Protein Balls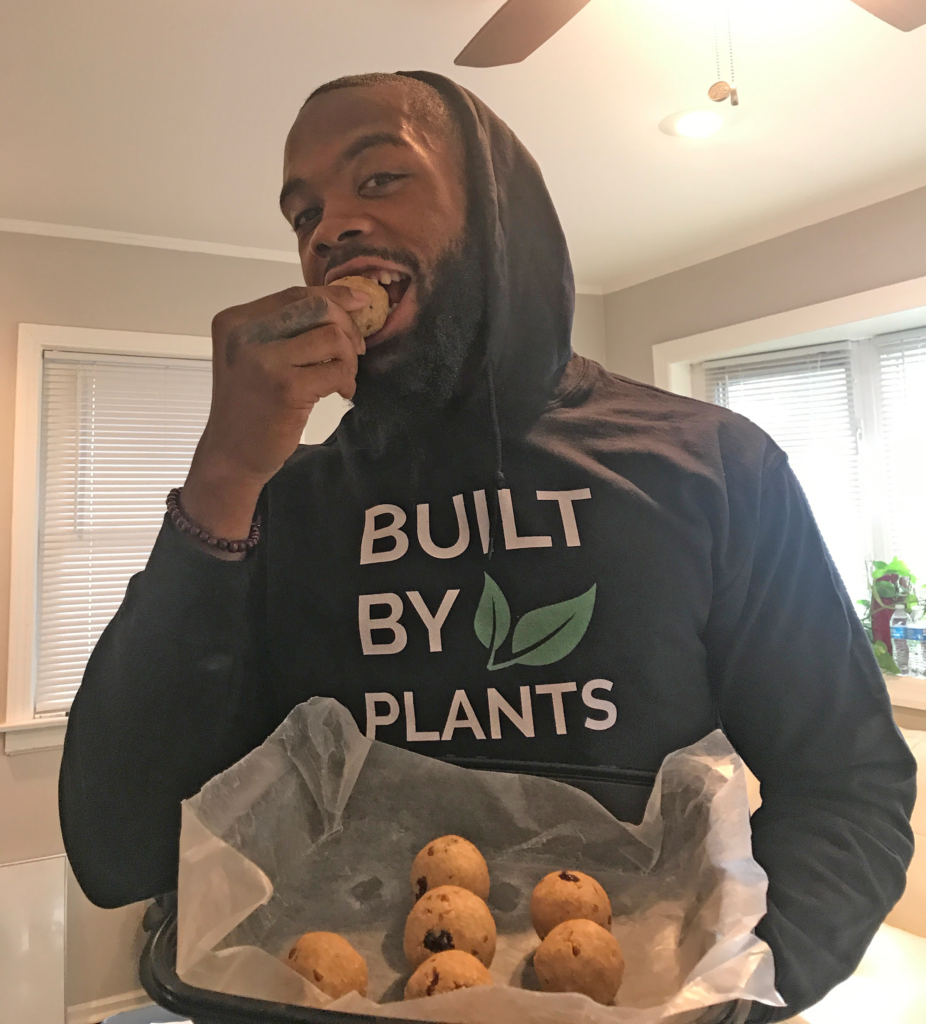 Out of ALL of the Protein Snacks I've made so far, this is def the best. Not only are they extra
🔥
🔥
🔥
These Vanilla Cranberry Pecan Protein Balls are extremely Filling! You'll love em even if you're not vegan/plant-based.
Also, I came to the realization that everybody's not a chocolate fanatic like me, so I decided to switch it uup.
These the extra convenient to make, as you don't even have to bake them. I usually make them and keep them with me throughout the day. So when I'm busy working and starting getting hungry, I just grab my bag and have a couple.
This also prevents you from making poor last minute food decisions due to worked up hunger and lack of willpower. Trust me, I'm speaking from experience.
TOTAL CALORIES: 1,534 | Servings: 2-3 (1 in my case)
MACROS: Carbs: 148.1g | Fats: 73.7g | Protein: 72.4
Here's what you'll neeeed
Ingredients:
2 cups of Organic Quick Oats
2 scoops of Vanilla Plant-Based Protein (I use the Garden Of Life Brand)
1/2 cup of Unsweetened Vanilla Almond Milk (I use Silk)
3 tbsp (25g) of Dried Cranberries (I buy them in bulk from Whole Foods)
1/3 cup (56g) of Pecan Pieces (I also buy these in bulk from Whole Foods)
1/2 cup (60g) of Peanut Butter
2 tbsp Agave (optional but helps the mix stick together better)
How To Make Vegan Vanilla Cranberry Pecan Protein Balls:
Pour the oats in a large bowl, followed by the protein powder and pecan pieces, then mix it up.
Add in the peanut butter, and agave and vanilla extract (optional). Stir to combine. (If preferred, you can put the peanut butter and agave in a separate small bowl and heat it, prior to mixing in with the oats. This will make a more liquid form for better sticking.)
Add in dried cranberries and continue mixing, this should make it pretty sticky, but still crumbly.
Slowly add in almond milk 1 tablespoon at a time and keep mixing it together, until it becomes a sticky ball that holds itself together. If mix is too dry, add in more liquid but not too much so that it won't hold it's shape.
Roll into preferred sized balls using your hands, then store them in a container. Put them in the fridge for 25 to 35 minutes, then take em out and BANG THEM THANGS!