Vegan Chocolate Chip Banana Pecan Protein Pancakes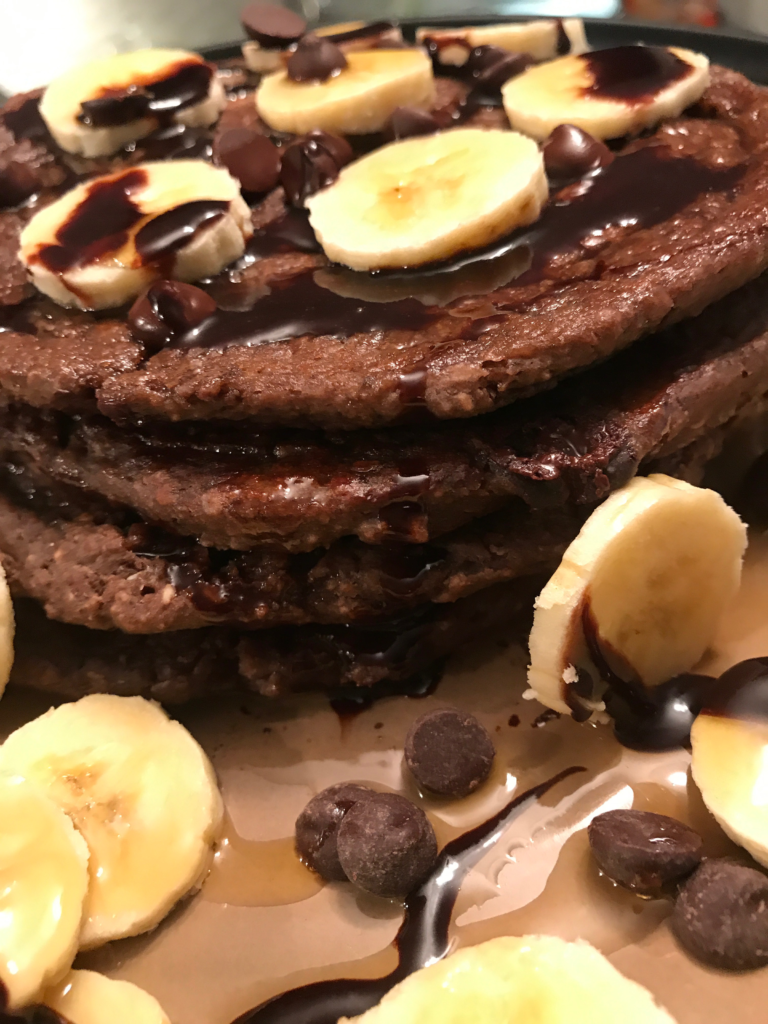 HANDS DOWN. THESE ARE EASILY THE BEST PANCAKES I HAD TO DATE.
I gotta confess 😅, I ate the WHOLE stack
I made these with 4 main ingredients, oats, bananas, almond milk and protein powder. Everything else is toppings for taste. For the topping, I used pecan halves, banana slices, chocolate chips, and maple syrup. Feel free to add and substract as needed for your own liking.
Carbohydrates are the body's preferred source of energy so I try to eat my carb-heavy meals around my workout times to take advantage of the energy surplus.
These Chocolate vegan protein pancakes are a perfect choice (In My Opinion) for a pre-workout meal OR a post-workout meal. Usually, I will have pancakes on Monday's, about an hour or two prior my strength focused training session. Then I'll take my pre-workout nap lol, wake up, shoot to the gym and smash my session. That's what I like to do, you can experiment with when and how you want to try them. They may be better for you after your workout.
INGREDIENTS
1 cup of old-fashioned oats.
1 cup of unsweetened Almond milk (or Coconut, Oats milk, etc.)
20g dairy free chocolate chips.
2 scoop of chocolate plant-based protein.
1 banana
10g Pecan Halves
TOPPINGS
Maple syrup (optional)
Banana Slices
Pecan Halves

How To Make Vegan Chocolate Chip Banana Pecan Protein Pancakes
Pour the Oatmeal, protein powder, chocolate chips, and banana slices into a big enough bowl and stir together. Pour all the ingredients together in a blender and add milk as needed to make a smooth mix, thin enough to stir but thick enough for a pancake batter.
Grease a pan with coconut oil and cook each pancakes a few minutes on each side. What worked best for me was to cook the pancakes somewhere in between medium and low, for 3-4 minutes each side. Maybe longer or shorter, try to scoop the edges with your spatula to see if they're crispy. That's a good sign that it's about ready to flip.
Cook the other side, then rinse and repeat with the rest of the batter.