Mashed Sweet Potatoes w/Walnuts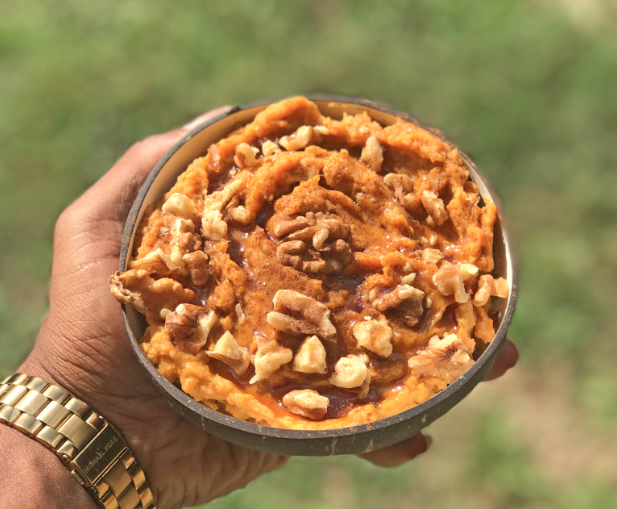 The first time I tried these was back in Chicago at Whole Foods.
It was love at first bite 😉
Mashed sweet potatoes are probably the most underrated dish out there. Literally.
I had them about 3 times in total from there before I started thinking, "Why not make your own???"
Then I replied, "That's some great advice dammit!"
Ingredients:
2 Sweet Potatoes
1 Banana (Optional)
1 Cup Almond/Coconut Milk
1/2 TBSP Coconut Oil (optional)
1/2 teaspoon Ground Cinnamon
20 grams Walnuts
How to Make Mashed Sweet Potatoes
You can roast, boil or even microwave the sweet potatoes and then mash them. Depending on how much time you have and how you feel about each method, you can determine what you prefer. I usually throw them in the mic for convenience and keep it moving.
I usually peel the potatoes, but a little-known fact, you can actually leave the skins on for more nutrients.
Put the potatoes in a bowl
Use a potato masher to mash the sweet potatoes, or a hand blender if you wish. 

Blend potatoes, slowly adding milk, about 1/2 a cup at a time. Use more or less for your desired texture.

Season how you like it!
If you want to add some fun to your Mashed Sweet Potatoes:
Serve with vegan butter on top
Mix in walnuts or pecans
Sweeten with pure maple syrup or brown sugar
Sprinkle on ground cinnamon and/or nutmeg