High Protein Vegan Spaghetti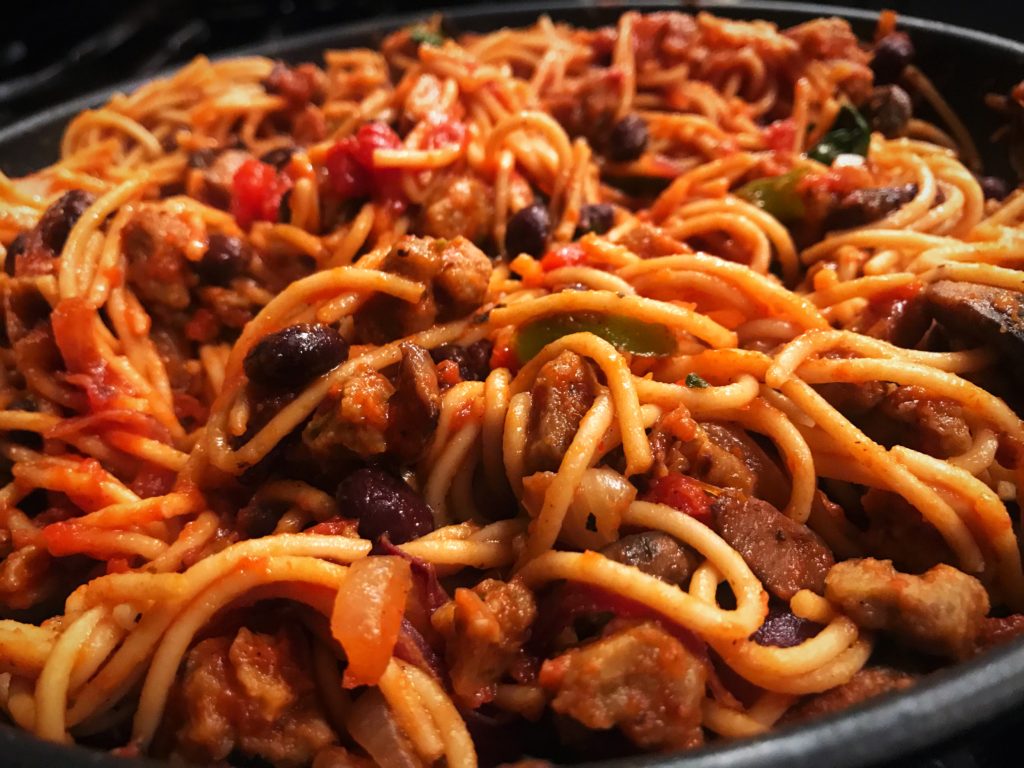 A couple days ago, I realized that I haven't had spaghetti over a YEAR! (Prior To being plant-based) WAYYY OVERDUE 😩 So I made some tonight.
On my Strength Focused Training days, I split my meals into just 2 big ones, for the whole day (using intermittent fasting). I'm a volume eater, so I prefer fewer but Larger meals over multiple but Smaller meals throughout the day.

INGREDIENTS FROM PLANT-BASED FOOD GROUPS
☑️LEGUMES: @uptonsnaturals Seitan & Black Beans
☑️VEGETABLES: Tomatoes, Onions (w/side of broccoli)
☑️GRAINS: Whole Grain Spaghetti
☑️FRUIT: Avocado & Green/Red Bell Peppers
TOTAL CALORIES: 1,148 | Servings: 2-3 (1 in my case)
MACROS: Carbs: 176.7g | Fats: 15g | Protein: 91.4

Ingredients:
Uptonsnaturals Seitan
Whole grain (4 ounces) spaghetti
1/3 cup chopped red and yellow onion
1/4 cup Green Bell Pepper
1/2 cup chopped white mushrooms
1 cup meatless spaghetti sauce
1/2 cup black beans, garbanzo beans or chickpeas, rinsed and drained

How To Make Vegan Protein Packed Spaghetti
Cook spaghetti in a pot, based on package directions.
In a large skillet, saute the onion, bell peppers, mushrooms and garlic powder in coconut oil until tender.
Heat Upton's seitan in separate or the same skillet as the vegetables since the seitan comes cooked already.
Add preferred spaghetti sauce, beans, tomatoes, seasoning, etc.
Bring to a boil; cover and simmer for 10 minutes. Drain spaghetti; top with sauce.