My Morning Go-To Green Protein Smoothie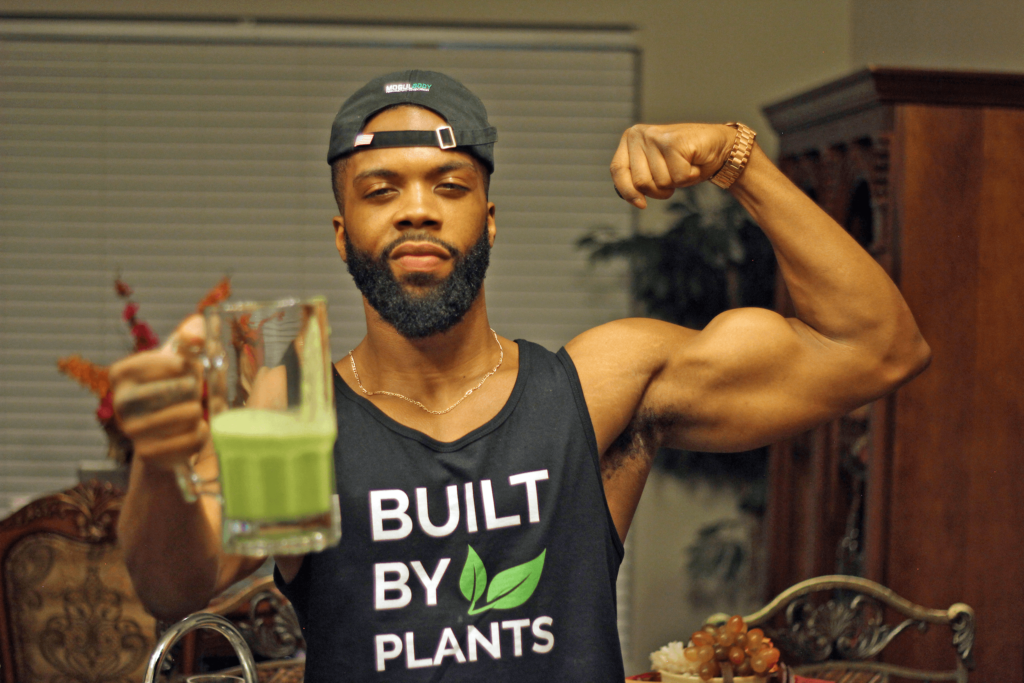 To start my mornings, My Go-To's are The MogulBody Coconut Oil Coffee with some oatmeal or I'll roll with a BIG ahh Protein shake.
But lately, I've been getting back to starting my day off with that Loud Green… wait, Let me clarify.
A Loud Green Protein Smoothie…
and I never regret it when I do.
Your typical average breakfasts may taste great, but usually leaves you feeling lethargic with the "Itis" afterward.
INSTEAD.
Image starting your day off feeling awake, energized, satisfied, and READY TO DOMINATE.
Plus getting down 2 to 3+ servings of fruits and vegetables first thing AM, with most the nutrients, vitamins, minerals, and antioxidants needed for the day?
Sheeeet…
Sign me up, o4n!
I've been consistent the last 4 mornings, so we'll see how long I can keep this up!
Give this Green Protein Smoothie a try tomorrow morning!
Guarantee it'll change ya life, FRFR.
What you'll need and how to make it is listed below.
Serving Size: Makes 1 large smoothie (or 2 smaller smoothies) 
INGREDIENTS:
1 cup (8oz) unsweetened almond milk
1 ripe banana
1/2 cup (125 ml) chopped pineapple, frozen
1-2 large handfuls of baby spinach
1/4 cup pumpkin seeds
2 tablespoon whole or ground flax seeds
OPTIONAL INGREDIENTS
½ cup non-dairy vanilla yogurt 

½ Chopped apples

2 tbsp hemp hearts (hulled hemp seeds)
BUILDING MUSCLE? FOR MORE PROTEIN:
1 scoop of Plant-Based protein powder (I use Vanilla in this one)

Peanut butter (I use Naturally More Brand Extra Protein Brand, pictured above)
FAT LOSS? FOR FEWER CALORIES:
Replace Almond milk with water.
Don't add Peanut butter
DIRECTIONS: (Click Play To Watch How to Make A Green Protein Smoothie)
Place all ingredients in a high powered blender.
Blend on high until smooth.
Pour into your blender bottle.
BENEFITS
ALMOND MILK: Unfortified almond milk is a good source of vitamin E & calcium, many varieties are often fortified with vitamins A, D, & B12, riboflavin, & zinc.
BANANA: A great source of vitamin B6, bananas also contain moderate amounts of potassium, vitamin C, and manganese.
PINEAPPLE: Rich in vitamins, enzymes, and antioxidants. They may help boost the immune system, build strong bones and aid indigestion. Also, despite their sweetness, pineapples are pretty low in calories.
BABY SPINACH: Loaded with vitamin K (1 cup provides over 180% of your recommended daily intake) as well as vitamins A & C.
PUMPKIN SEEDS: Pumpkin seeds are a good source of protein, iron, zinc, manganese, magnesium, phosphorus, copper, and potassium.
 
How you tried this yet??
Do you have your own green protein smoothie recipe?? Let me know below in the comments!