Epic Vegan Crunchy Tacos!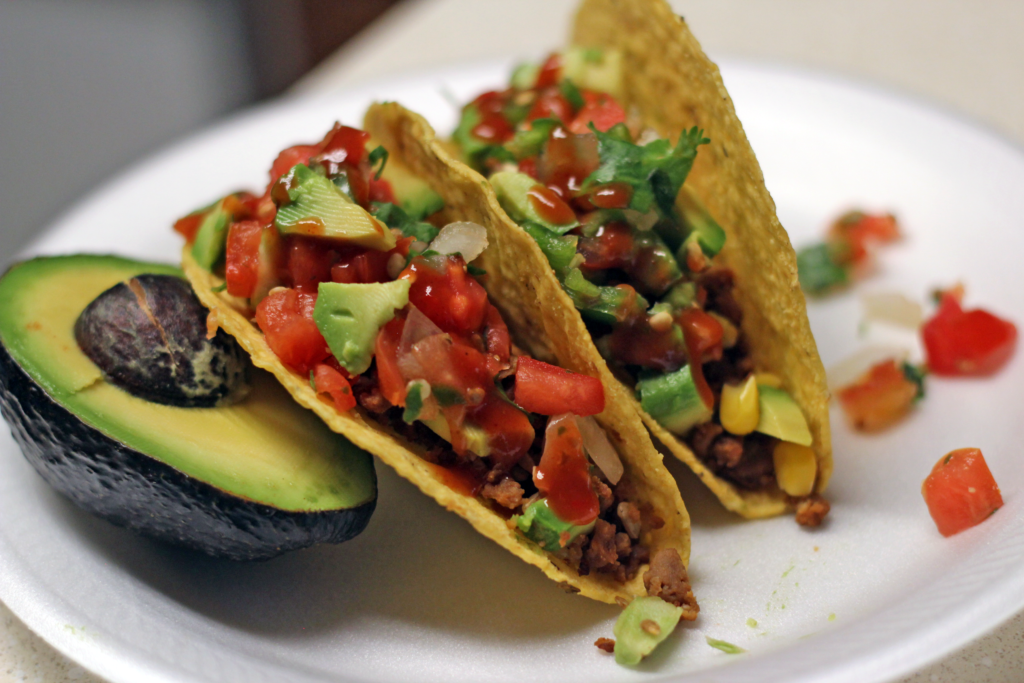 Waddup !
So it's been over 5 years since the last time I've had Taco Bell.
With me being plant-based, it's not even an option anymore…
Or is it?
I whipped up these super easy to make vegan tacos last night, give them a try!
This is a dope dish to have at parties/get-togethers or if you just consistently crave tacos 🌮 like myself lol.
My personal fav is Seitan tacos, which I'll be making next.
Always keep in mind that you can Veganize ANY of your favorite cuisines !
If you're not a fan of plant-based meats, you can replace it with your own preference.
Tofu, mushrooms, cauliflower, refried beans, etc.

INGREDIENTS
Epic Vegan Crunchy Tacos!
Taco shells
Beefless Ground Crumbles
Sweet Kernel Corn
Brown Rice
Avocado (optional)
Jalapeno peppers (optional)
Jerk seasoning (optional)
TOPPINGS (optional)
Pico de gallo (chopped tomato, onion, cilantro, green peppers, salt, and lime juice, etc.)
Taco Sauce
 Whatever else you prefer
INSTRUCTIONS
Heat the coconut oil in a large, wide skillet over medium-high heat. When the oil is ready, add the beefless ground crumbles, stir for 4-5 minutes.
Add in brown rice and corn, then continue stirring. Add your preferred seasoning, Jerk seasoning, chili powder, cumin, and oregano, etc.
Taste and adjust the seasonings as needed. Transfer the meat mixture to a serving bowl and top with the Pico de gallo. Serve alongside the taco shells, lime wedges, avocado, and your choice of optional toppings.
This is just one example of many I'll be sharing more often.